Personalizing emails is a great way to break through.  The more personalized and relevant your message the more likely you are to receive a response.
The most obvious first step is the creation of a list that is suitable for your message.  GoldMine fields are the basis for creating targeted lists using filters and queries to select from your entire Contacts database.  It's common to select records from your GoldMine CRM based on Record Type (prospects versus customers), Geography (state, territory, etc.) and other characteristics that are pertinent to your qualifying process.
The most common form of personalization is to insert people and business names into your message.  But other fields are great to consider.  For example you might prepare a message with the date they first contacted you and went into your database.
When designing a GoldMine template the email toolbar offers you two menus from which to select fields: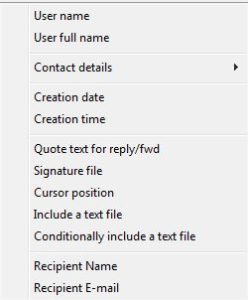 Under the Contact Details selection is a sub-menu with the following additional fields: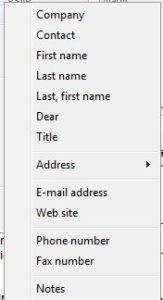 In addition, it is quite easy to insert a custom GoldMine field that is not on either of these menues to use in your email template.  You simple enter the code manually — type it into the email.  You put the merge code bracketing to either side of the field – <<  >>.  In between you enter the database table (Contact 1 or Contact 2) followed by a hyphen – and then a greater than sign >.  So, it would look like this:
<<contact2->UFIELDNAME>>
GoldMine will apply the font formatting to the field that you are using in the template.
Be creative — you can create fields in your database with the intention of using them in the copy of your templates.  For example a short note about their interest or maybe the source field.  The more basic you make your template and the more you personalize it, the more your broadcast will be perceived to be a one-up email.
First Direct has posted a number of other articles on our blog to help you with using GoldMine templates and Email marketing tips.  Here are some handy links:
We have other articles as well.  Do a search on our site if you're interested.  OR, if you'd like to speak to us about your specific needs, please contact me.