Here's a tip for a quick way to view OR to get a count of GoldMine users' closed activities.  By activities I am specifically referring to:
Calls (unscheduled incoming and outgoing, scheduled)
Appointments
Next Actions
Sales (closed, lost)
Forms
Other Actions
To-dos
Literature Requests
Email Messages
FOR A VIEW:
STEP 1: This analysis tool is accessed from within the Activity List.  ("Go To" menu > "Activities)  Select the "Closed Activities" folder from the Left Navigation.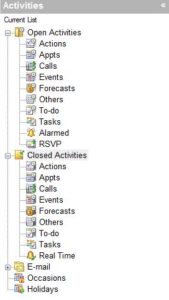 STEP 2:  Set the data range on the Activity List toolbar.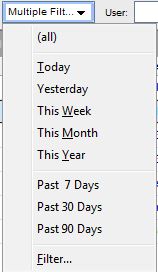 STEP 3:  Select "Filter" from the menu to drill down further.  (After you've selected the time frame above!)
STEP 4: Right click inside the Activity List data area in order to further filter by date range, user, and even by a specific Activity/Result Code.
FOR AN ANALYSIS:
Right click inside the Activity List where the data is displayed and select "Analyze" from the local menu.  This will launch the window with the Statistical Analysis of Completed Activities.  Set the date range.  Then press the "Analyze" button.  If you want you can then press "Print" for a hard copy.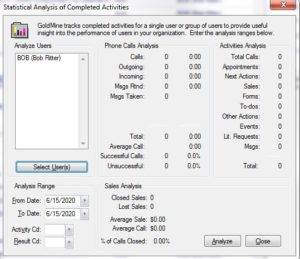 You can analyze individual or multiple users at once, but the totals are rolled up.
This analysis tool can NOT be customized.  So if you're looking for other ways to analyze GoldMine activities you'll need to consider other options.  I'd be happy to discuss your analysis needs an offer recommendations at no charge.   Give me a call at (845) 221-3800.