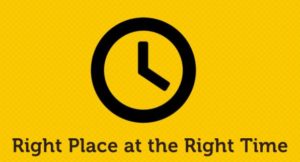 Earlier in the year I was asked to write a guest column for a publication by the trade organization PSDA.  In their magazine "PS" they published 6 articles by me over 3 months .  One of those articles was titled "Staying in Touch and the Power of Repetition."
Here is a link to a PDF of that article:
Article in PSDA – Staying in Touch – power of repetition"
I gave readers 8 Smart Reasons to Use Repetition.  
Anyone who has had a lead fall through the cracks or has contacted a prospect after they already made a purchase, understands how important timing is!   Timing is everything since being in the right place at the right time is as important as anything when it comes to making a sale.  LUCK is not a strategy.  Neither is being psychic.  The remaining option is repetition.
I contend that repetition can not be either effectively performed or managed without a CRM tool.
Timing is only one of the eight reasons to build repetition into your sale and marketing methodology and process. Won't you consider the other seven?
If you'd like to know all 8 reasons for building a system for repetition, check out my article.  OR, give me a call and I'll personally teach them to you and show you how CRM software can help you stay in touch and increase sales.
P.S.  In another related article I explain the what happens when we do not stay in touch.  Perhaps you'd like to check that out too.