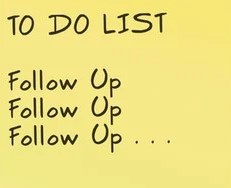 How many follow-up attempts is enough for a sales lead? How long should one keep trying to make a sale before giving up? What's the criteria or rule of thumb for following up with leads and prospects?
Each business has to formulate it's own business process and rules. And there is no hard & fast rule for when it is time to give up on a lead or prospect. But there are some questions that should help you determine when 'enough is enough':
The normal sales lifecycle for your industry – some businesses have a very short sales cycle while others can take months or even years to close a sale.
Are your products/services an impulse buy or do they involve a longer decision process – the more that is involved in making a buying decision the longer the follow-up time frame.
Urgency – if the consumer's need is urgent when they contact you and must be meet ASAP, it is fair to say that the buying decision will be made in a shorter time-frame.
The level of interest and need – until a consumer satisfies a need they are still in the market.
The consumer emphatically states that they do not have any further interest – it's important to distinguish whether they've entirely lost interest, satisfied their interest or simply have postponed their interest because of other priorities.
Is there a seasonality or perishability or other factor that effects the consumers' time frame for a decision.
Lead Source – the source of the lead can be an indicator of the quality of the lead.
If you can't make a reliable assumption that your consumer is "out of the market" for what you sell, then it is better to error on the side that the lead is still valid. It is far better to reclassify a lead or prospect as "dead" based on a valid reason than on an assumption. Otherwise, you could easily be giving up on an opportunity that still have genuine potential to purchase from you.
It is far less expensive to follow-up with an existing lead in your CRM database than it is to generate a new lead. Consumers who inquiry about products & services generally do so because they have some interest. There is a broad spectrum in terms of the level of interest and the timing of their decision. The better your can qualify a lead or prospect the stronger will be your basis for any decision to follow-up or not.
The only rule of thumb that I follow when it comes to reclassifying leads/prospects to "former" is that unless I confirm to the contrary, a lead/prospect is a lead/prospect until proven otherwise. We've all heard the expression that when we make an assumption we can make an 'ass' out of ourselves. In case of a prospect or lead, the wrong a$$umption = lost revenue — revenue that went to your competitor I might add.
Therefore, the answer to the question I proposed in the title of the article is: Continue to follow-up on leads/prospects until they are no longer leads/prospects. Naturally, as time passes you might expect the quality or score of leads/prospects to decline. So, the amount of time and money you invest in following up on leads may also decline over time. For example, a direct sales call may not be justified to a "old lead" that is not responding.
In addition to altering your messaging over time to leads you may want to alter your offer. Perhaps you stagger or stage special promotions based on the age of the lead.
Your CRM system can (should) help you to manage the sales process such that your marketing and sales staff have access to information that they can use to help with managing the follow-up. There should be information/data elements in your system which can be indicative of suitable marketing & sales actions. Here are some data points that can inform your decisions and process:
The date the lead was created (age of the lead)
The last time the lead was updated in the database
The last contact, last completed call, last completed appointment
Age of forecasted sales
Incoming emails
Call notes
Values in fields used to qualify leads
The lead source
Opt-out request
Undeliverable email or disconnected phone
Title or Level of your point of contact
GoldMine CRM is a powerful tool for managing the sales process. It offers features for tracking and using data intelligently and effectively. We welcome the opportunity to help organizations discover and apply CRM and related applications to optimize revenue.