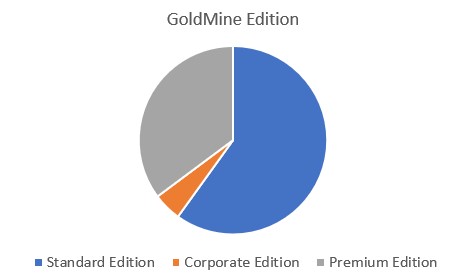 First Direct Corporation has been selling and supporting GoldMine CRM software since 1992 when GoldMine CRM was called "Contact Management Software" and it ran on the DOS operating system. A week doesn't go by that we don't service or upgrade a GoldMine system that is 10+ years old. It isn't uncommon for us to deal with systems that are considerably older.
It is actually impressive that GoldMine has so many loyal fans. When we discuss upgrading their GoldMine database they always appreciate that we are able to carry all their existing data and configuration (fields, users, etc.) into the most recent edition of GoldMine Premium.
The value of a CRM system is dependent on the data, not the software!
Decision makers in organizations with very old GoldMine systems know they have to do something. They are facing compatibility and security concerns which they need to attend to. Invariably the topic of switching off of or staying with GoldMine comes up. Many times there is the mistaken belief that in order to address their compatibility and security issues they'll need to switch off of GoldMine. That is rarely the case. Most of those concerns are met with today's GoldMine edition. We can also meet the desire for mobility and even cloud hosting.
Because First Direct Corporation is also a Zoho Authorized Partner we can credibility discuss the pros & cons of switching to a SaaS application like Zoho CRM. Even though Zoho makes tremendous solutions and we love to demonstrate and deploy them, many GoldMine owners decide upgrading to the most current edition of GoldMine.
By the same token, if there are compelling reasons to switch from GoldMine CRM to a Sass application, First Direct's CRM experts we can identify them and help an organization make a smooth transition to Zoho CRM.
Upgrading and making better use of an existing GoldMine CRM system is often the most expedient and economical decision.
You might assume that the choice to stay with GoldMine is based on all the improvements listed in the collection of "release notes" for each update that Ivanti produces. It's a factor, but I don't believe it is the main deciding factor.
I believe the main reason organization stay with GoldMine is that I am able to demonstrate how GoldMine can be used more effectively than they initially appreciated or are presently using it. In other words, they reach the conclusion that upgrading and making greater use of GoldMine isn't only expedient and economical, it is also possible to achieve their business objectives with the application they already own. Some of benefits derived with upgrading GoldMine versus switching include:
Savings!
No need to migrate data out of GoldMine and into a new system
Users require less training and can get back to work quickly
There is no guarantee that the users will like a different application
Switching software doesn't ensure best practices or improved usage
Their is much less requirement for IT resources
Management doesn't have to shepherd the transition from one system to another
The business can leverage the value what they own more rapidly
The upgrade will breath new life and interest into the usage of CRM
They can buy time, sometimes years, before a much more costly change is required. Such time takes the pressure off and allows for additional planning for a more successful transition to another system down the road.
If your organization is still using an older version of GoldMine, whether it's 4 years or 14 year old, and you feel you are at a CRM crossroad, let's talk! Give me a call at (845) 221-3800.