Having a user-friendly website and professional-looking email templates is always an advantage for any business. It is time-consuming to reinvent the wheel every time we create something new, whether you build a website or create an email template. This is why design templates have become so famous in the past few years for use on everything from websites to emails, and even social media campaigns. 
Here are some benefits of using website and email templates for your business:
Benefits of using website templates:
Web design templates come with pre-designed layouts, colors, and fonts in place. These are some of the benefits of using website templates:
1. Saves money
2. Saves time
3. Professional Designs
4. Wide choices
5. Easy to setup & maintain
6. Built-in SEO
1. Saves money
Building a business website from scratch is expensive. Website templates are pre-designed with different layouts and come with many built-in features, making them a cost-effective way to build a site than hiring a web designer and developer.
2. Saves time
It takes a lot of time to build a custom website from scratch. Templates provide you with a faster, more affordable way to launch your new website.
3. Professional designs
Website templates are designed by professionals who have experience in user interface and user experience. The design templates are already perfected and designed in such a way that looks functional and professional.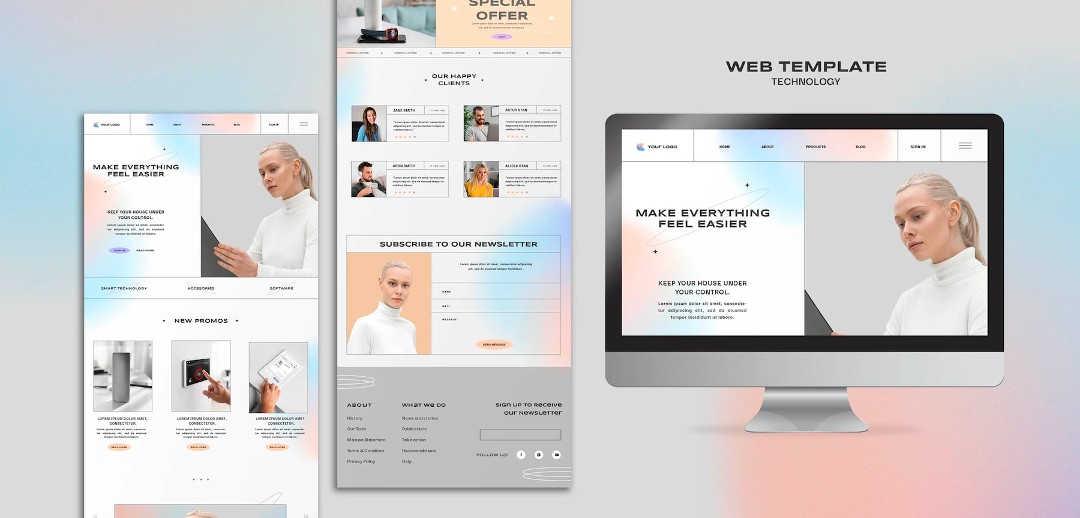 4. Wide choices
WordPress offers over 11,000 website design templates. This is just one template provider. There are hundreds of template providers with tons of template designs to choose from. With such an abundance of choices, you can find the one that best suits your industry and design needs.
5. Easy to setup & maintain
Website design templates come with many widgets and options that make the setup process easy. You will even get maintenance and tech support from website template providers.
6. Built-in SEO features
Search engine optimization (SEO) is essential if you want to rank your website at the top of the search results. Nowadays, website templates have built-in SEO features, which is one more advantage to using them. The templates help to optimize the website as soon as the process of development begins.
Just like website templates, email templates are pre-designed HTML files that let you copy and paste content directly into the file. You can use the same email template again and again for multiple campaigns with different content.
Benefits of using email templates:
Using an email template can simplify and automate your email marketing process. Here are just a few of their benefits.
1. Increases productivity
2. More consistent style and quality
3. Delivers personalized experiences
4. Makes automation easy
5. Improves response rates
6. Increases website traffic
1. Increases productivity
Email templates can save you significant time and help you increase efficiency. Here is how. 
If you write a new email from scratch each time you want to contact a new lead or respond to customer queries, you end up wasting time recreating the message over and over again.
This is where email templates come in. You can create the email message with visuals, links, and other information once and save it as a template. Whenever you need to send that specific email, you pull up the template, add the email addresses, and you're good to go. You can create and save multiple templates with Zoho CRM, meaning you save time on multiple emails which you would normally have to rewrite every time. You and your team will have more time building business relationships that matter and less time writing emails.
2. More consistent style and quality
Consistency in your branding creates a better overall experience for your customers. Use email templates to keep the standards, style, and quality of your emails. Email templates enable you to define standard responses and canned emails for rapid responses to common questions and queries from prospects and customers. Templates help reduce grammatical mistakes and spelling errors in the email response process so you spend less time editing and more time on other important tasks.
3. Deliver personalized experiences

 
94% of businesses say that personalization is critical to their email marketing success. With email templates, you can add basic personalization like your subscriber's name, or you take it to the next level with location and action-based personalization.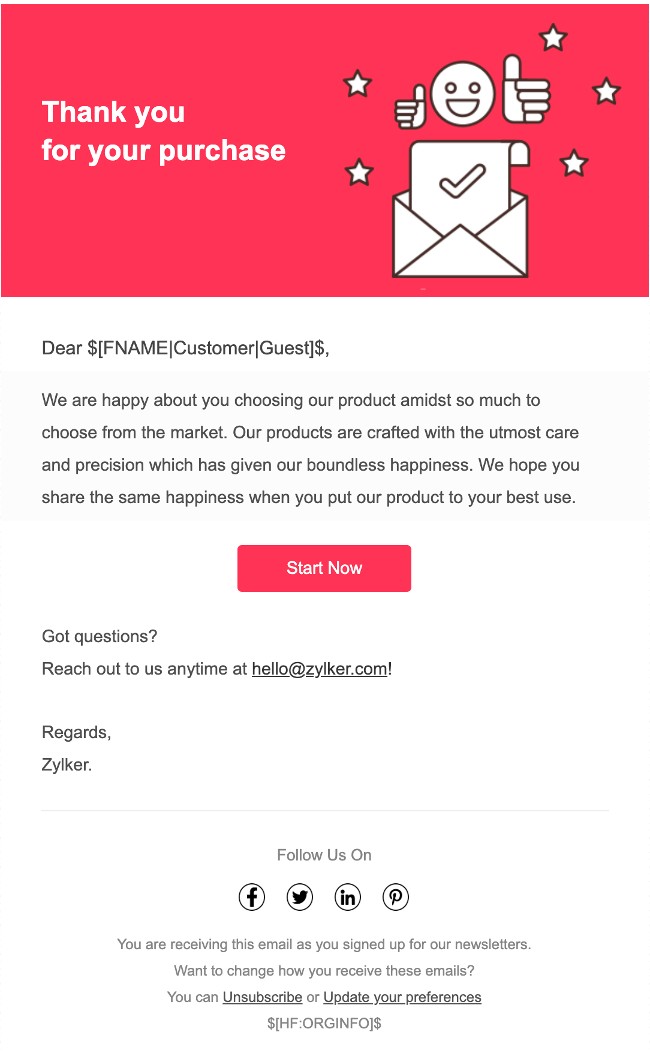 4. Makes automation easy
Another way that email templates save time is by making automation easy. You can use an email template and make the desired changes before an email blast is sent out. If you're using CRM solutions like Goldmine or Zoho CRM, you can choose your template, set a date and time for the email blast, and automate the process of getting them into your customers' inboxes.
5. Improves response rates
Personalization improves response rates, but email templates are viewed as more reputable than other messages. Consumers prefer reading professional-looking emails that match the brand image of the seller.
6. Get more traffic to your website
Email templates can help you drive traffic to your business. Here is how? The average open rate for email marketing is generally 20% – 30% and the click-through rate is 3%, which is way higher than Facebook and Twitter Ads. You can create email templates with links to sign-up forms or links to book a consultation or demo to drive traffic to your website and increase conversions.
Conclusion
Website templates and email templates are pre-designed, functional, and easy to use, saving you time and money and providing a competitive advantage.
How First Direct Corp Can Help You with Website and Email Templates
At First Direct Corporation, we offer many diverse and innovative website templates and email templates that you can choose from. If you cannot find a web design template that fits your needs or you want to know more about creating your own email templates in Goldmine CRM or Zoho CRM, please contact us online or call us at (845) 221-3800.