In this post I will answer the following question:
Is there a way to have a password protected folder in GoldMine?
The answer is YES!  And, here is how in 3 Simple Steps:
Step 1) Go to your GoldMine Email Center and select the "Filed" (saved) folder that you want to protect.  (Note: The  option to edit folder properties only applies to "filed" folders, not the "Inbox" folders.  So you can still use the ability to drag/file and email to a folder and automatically set the security to "private," but you'd drag the email to a "filed" folder instead of another "inbox" folder.)
Step 2) Right click on the folder name and select "Properties."  The following dialog box will open.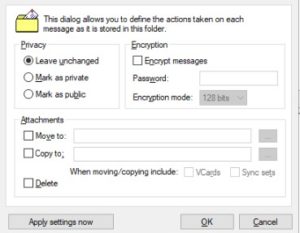 Step 3) Select "Mark as private" – once this is done, any emails filed to this folder will be private to all GoldMine users except the owner of the email AND any GoldMine users with "Master Rights." If you want added security you can select to "Encrypt messages" and then EVERY GoldMine user, including the email owner, will need to enter the Password you set in order to open the email.
Word to the Wise:  I discourage the use of "Password protecting" your folder for a couple of reasons.  First, it is a pain in the neck for the email "owner" to have to enter a password every time.  Second, from our experience, when people forget their password, they end up calling for technical support which is a hassle and an expense!  Furthermore, Since the email content is permanently encrypted in the SQL database, you won't be able to see that email content in readable form in any dashboards, reports, SQL queries, etc… the email body can no longer be "previewed" either. You must fully open the email, type a password, in order to read it.