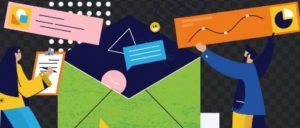 93% of B2B marketers use email to distribute content.
(Source: Content Marketing Institute)
What we know!
We know that consumers check their email daily.  According to Litmus.com 2018, over 50% and rising of all email is opened on Mobile devices.)  We know that consumers prefer email communications over being called by a salesperson. We know that marketing emails influences purchases and increase retention.  We know that segmented campaigns outperform by many times over unsegmented campaigns.
According to a study by "Not Another State of Marketing" 2020, 78% of marketers have seen an increase in email engagement over the last 12 months.  How about you?  What do you know?
Do you have a smart strategy/plan for leveraging email marketing that is aligned to your business?
Do you have the tools and skills?
Does your marketing plan include the components necessary to:
Avoid violating SPAM laws
Drive traffic to your web site
Track interaction/engagement
Convert website visitors to leads
Capture the results/leads in a database
Distribute the leads to your sales team automatically
Qualify leads and identifying prospects
Market and other follow up to leads
Personalize and segment future communications
The essential steps and tactics that are required for effective and successful email marketing requires tools, expertise, planning and organized execution.  CRM software is at the core of any database.  But CRM alone isn't sufficient – businesses need technology specifically designed for email marketing and that technology must be integrated with your CRM.  Even that is not enough if you lack the wherewithal.
Two Email Marketing Solutions:
IntelliClick
MailChimp Connect
First Direct has been providing CRM technology for over 25 years.  We've supported customers with tools designed for what is needed to grow with email marketing.  Contact us or call (845) 221-3800 for a free consultation and a demonstration of solutions.