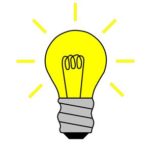 As the President of First Direct Corporation, I face similar challenges and demands that many of my customers do – one of the key being – How to drive new and repeat business?  
It's Monday morning, I've taken care of the urgent items on my list for today – my call backs, responding to emails – that sort of thing.  Now I have a moment to ask myself, "what can I do to develop business?"  I'm in search of an idea.
Marketing and sales begin with an idea.  An idea for a need in the market place or that your customer base has. An idea for a product or service.  Sometimes it is simply an idea for what you can do that week or even that day to drum up some new or repeat business.
Invariably, when I'm posed with the question of how to to drive new and repeat business, my thoughts turn to how I will use my CRM system.  Essentially I'm on the hunt for a strategy and tactics in order to achieve one or more of the following six primary objectives:
Prospecting / Lead generation
Increase Lifetime Value – Cross or Repeat Sales to Existing Customer Base
Loyalty & Retention – Strengthening relationships
Branding – Building awareness and perceived value of my company or my products brands
Research – Learning more about the needs of customers, prospects or the marketplace
Reactivating former prospects and former customers
Regardless of which objective I choose to pursue and what specific strategy and tactics I device for the purpose of achieving that objective, my thoughts and plans will come around to the use of my CRM database in several ways, including but not limited to:
How to consistently capture inquiries and responses to the campaign
Ways to use the data I have in my CRM for the campaign
A Means to analyze the results
A query of my database to develop a target audience?
Preparing my organization to efficiently and consistently manage the execution
We've all probably heard the expression "one idea leads to another."  When it comes to the execution of marketing/sales initiative that is very true.  But it begins with one good idea.  And, it often begins on a Monday morning.
I invite you to discuss new ideas for using CRM with me.  Let's look for the ways you and your organization can leverage your CRM database for better results.  Call me at 845-221-3800.