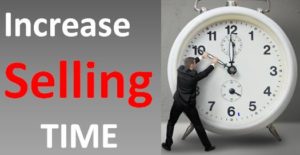 Increase Selling Time + Accelerated Sales Process = Big Increase In Sales!
I remember a seminar/workshop that I attended nearly 20 years ago.  The primary message that stuck with me all this time is this:
"Sales people should sell, and everybody else should do everything else."
The premise of the business development consultant that owned the business, which was conducting the workshops, was that if you increased the time that a sales person does what they're best at, and decrease the time they spend doing non-selling tasks, their productivity as sales people would rise.  And the organization's sales would increase accordingly.
The net of it is that your sales people should spend more time "selling," versus doing administrative tasks, reporting, and other functions.
Here are 12 ways to increase selling time … in order to increase sales.
Better organize your literature fulfillment system so the fulfillment can be done as efficiently as possible.  So when the time comes to get out a cover letter, brochure, samples, and other materials, it can done by quickly and easily by staff.
Maintain a library of boilerplate letters, emails, and other communications that can be quickly and easily merged with contact information.
Anticipate common questions and produce F.A.Q. sheets and other documents to address them, aid fulfillment, and aid the sales process.
Provide administrative support for data collection and research.
Utilize sales automation tools, such as those offered in CRM applications, to increase productivity and aid follow-up.
Provide networked productivity peripherals such as envelope/label printer and business card scanner if your office needs them.
Use customer service and administrative staff to capture qualifying information and do certain data entry functions.
Provide administrative resources that salespeople can draw on for quote/proposal generation.
Generate useful analysis reports that guide the salesperson to opportunities and help them to focus their efforts on choice prospects.  Don't bog your sales people down with reporting.
Evaluate the results of campaigns and sales methods to provide constructive feedback to sales people.
Establish an in-house telesales staff to do research, qualify prospects, and help with appointment setting, and follow-up.
Develop content on your website and blog that your salespeople can refer to in the sale process to provide visual reinforce for their sales and strengthen their communication.
First Direct Corp. can help your organization to leverage technology and increase selling time.  If you're not getting the results and return on investment (ROI) from your system that you'd like to have, speak to us.  Call me today at (845) 221-3800.