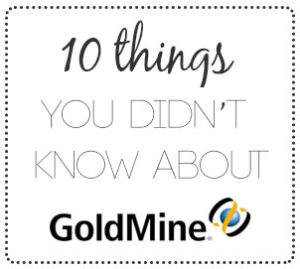 GoldMine CRM has been around a long time (since 1989), and it's chalk full of features and functions that help you run your business and manage your valuable customer relationships. Whether you've been using GoldMine for over 10 years or if you're just starting to use GoldMine, here are ten things you and your organization should be doing with GoldMine that you're probably not doing or didn't know you could.
Automatically create or update a GoldMine contact record when ever someone submits a form on your website
Assign a new lead to a sales rep based on territory using Automated Processes and/or Lookup.ini file
Create and link documents  – stored locally or in your cloud storage (Dropbox, Box, Google Drive, One Drive, Amazon Cloud)
Integrate with other applications to send,receive, or view customer related information from online web applications and local database applications
Use industry standard tools like SQL Reporting Services, Crystal Reports or popular GoldMine reporting add-ons for reporting needs
Set security read/write/audit by field for a specific user or group of users
Use Automated Processes for work flow automation. When something happens in GoldMine, do something in another application.
Create integrated quotes and proposals with industry leading add-on QuoteWerks
Integrate GoldMine with QuickBooks using Add-on software GoldBook
Use the GoldMine Knowledge Base to store and find answers to common company questions or problems.
If you'd like to discuss any of these features, add-ons or capabilities please contact First Direct Corp. or call us at (845) 221-3800.