We've got some amazing GoldMine Webinars lined up for this week (Oct. 4 – Oct. 7 2016).
Please have a look at our full list of events and register before its too late.
—————————————————————————
Web Application & Web Site Integration with GoldMine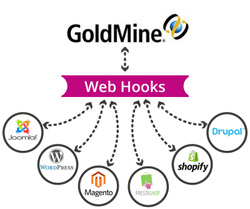 Does your organization use any of the more then 500+ popular web applications that are available today? Would you be interested in learning about ways of integrating various web applications with GoldMine CRM? Applications such as: WordPress, WooCommerce, Quickbooks Online, Jotforms, Constant Contact, Mailchimp, FullContact, WebMerge, REPLY, plus over 500+ other web applications. Here is a list of some of the different types of web applications we can integrate with:
Accounting
Ads & Analytics
Amazon Web Services (AWS)
Calendar
Call Tracking
Contacts
Customer Support
Dashboards
Databases
Developer Tools
Devices
Documents
Drip Emails
Ecommerce
Education
Email
Email Newsletters
Event Management
Fax
Files
Fitness & Entertainment
Forms
Google
Human Resources (HR)
Management Tools
Marketing Automation
Microsoft
Notes
Notifications
Payment Processing
Phone & SMS
Printing
Product Management
Project Management
Proposals & Invoices
Real Estate
Reports
Scheduling
Server Monitoring
Signatures
Social Media
Social Media Management
Spreadsheets
Surveys
Team Chat
Team Collaboration
Time Tracking
To-do Lists
Transactional Email
Video Calls
Video, Audio, & Images
Websites
WordPress
In this webinar we will discuss some of the capabilities of integrating GoldMine with more then 500+ web applications to improve your businesses workflow processes and to extend the functionality of GoldMine without having to duplicate effort or data entry. We've already identified several useful web applications that your business can take advantage of immediately, and we'll demonstrate a few of them during this webinar presentation.