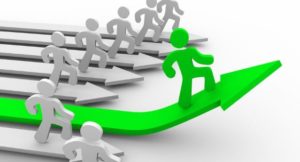 What business doesn't have competition?  And, what business isn't looking for a competitive advantage?  The more useful question worthy of answering is, "how can you gain a competitive advantage?"  Let me offer you an answer you may not have considered!
I won't pretend to tell you I know how to make your product or service better.  Nor would I suggest that you're in a better position to offer lower pricing. And, let's just assume that on average your people are as smart and hard working as your competitors.  Improving your brand and reputation can take years, and you are looking for more rapid results.  So what's the answer?  In other words, what is another way of gaining a competitive advantage that doesn't involve changing what you sell?
If you are competitive in your space, with as much to offer as your competition, the answer may be to beat your competitors by making better use of your CRM!
Do better follow-up using your CRM – news leads, active prospects, current customers, and even former prospects & customers represent opportunities for future business.  If you lose touch, you lose business.  Consider developing an in-house call campaign.
Work more effectively as a team – CRM is a listening post which your organization can use to share information, delegate to one another, and manage efforts.
Target market to reach your audience with strong messages and offers – capturing qualifying information, demographics, and other attributes which can be the basis for marketing communications.
CRM is like any tool.  Any professional is empowered by or limited by their ability to use the tools of their trade!   Technology has long been used to extend our capabilities.  This is true whether one is a surgeon, fisherman, mechanic, or a business person.  Therefore, those who can make better use  of technology to perform their profession have a competitive advantage.
CRM software is a "tool of the trade" for sales or marketing professionals!  If you're not applying these "Five CRM User Best Practices," schedule a no-obligation phone meeting  with the President of First Direct Corp. Call (845) 221-3800 and let us show you how to gain a competitive advantage with GoldMine Premium CRM.