Here is how to increase sales by doing small targeted marketing broadcasts and less phone calls.
I realize the heading of this article is counter-intuitive. But I can assure you it will make sense after you read the rest.
As a general rule with marketing you aim to reach a larger targeted audience. If you have 3,000 contacts in your database that meet your criteria for a marketing communication, you would include them all in your broadcast email.
Salespeople, on the other hand, tend to focus on their active list of prospects and particularly on those contacts with planned follow-up. But even with these filters, the number of contacts that a salesperson needs to reach out to in any given week can be hard to keep up with. When this is the case, the result is that salespeople get's behind, leads fall through the cracks and opportunities are lost.
I'd like to offer you a method of using GoldMine CRM which can help with this challenge.
Step 1. Build a weekly list of contacts that warrant individual follow-up. This can be done by using GoldMine's query builder to create a simple SQL query based on "Pending Activities."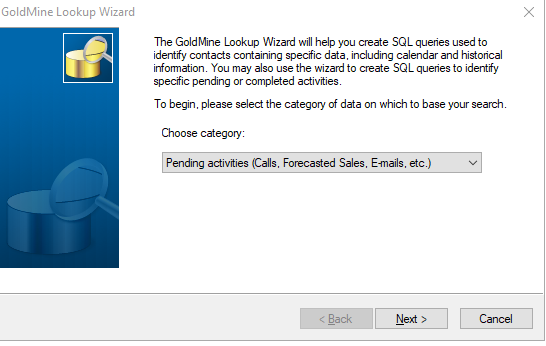 Using the Lookup Wizard in the query builder you can select your activities and the specific types of activities to target.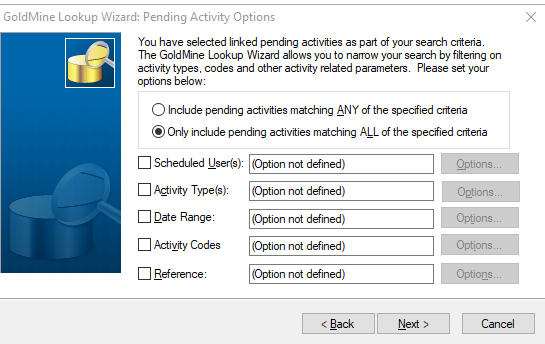 Step 2. Once your query is run it will create a list that can be the basis for GoldMine Group.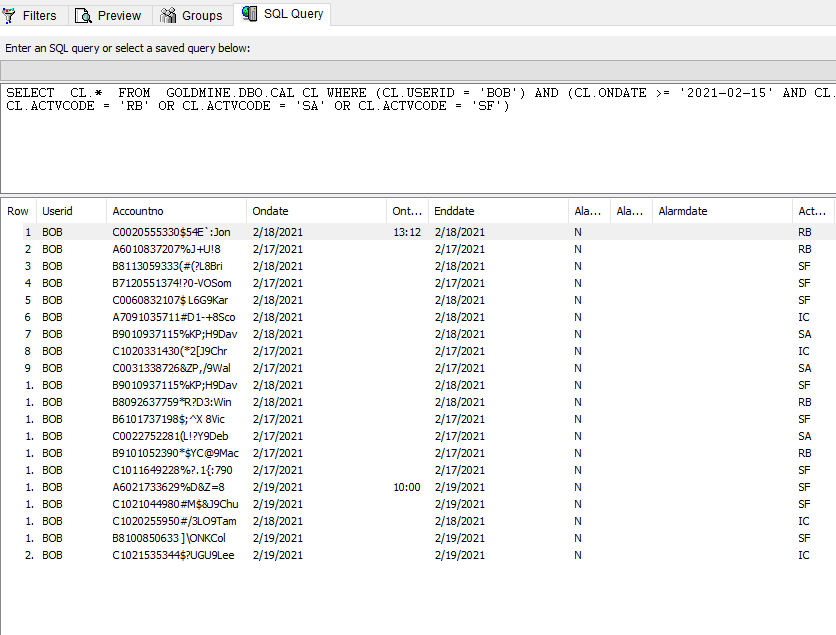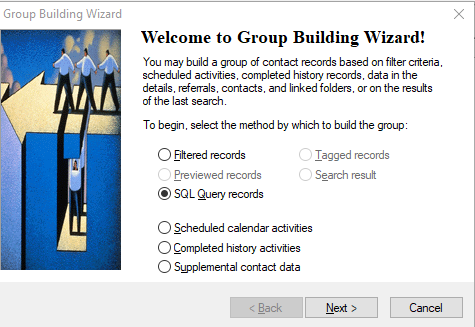 Step 3. With your Group as the basis for the Contact you need to follow-up you can then send a personalized broadcast email template which speaks to the target audience you've selected. I like to queue up my broadcast and then to visit each record before sending the message. This way I can edit the message or change the date for it to go out if I wish. I can also move my call or action out appropriately.
If the contact receiving your message has a desire to speak with you or request your assistance for any reason they are likely to respond in a reply.
Step 4. Now, rather than calling all the records, you can target your individual direct phone calls to those contacts that have a higher priority.
Conclusion:
Using this "Less is more" method I find that I can actually do more sales follow-up in less time. In addition, I am able to stay in contact with a larger list of prospects and customers over a longer period of time without burning myself out.
Bonus:
Achieve repetition on over a longer period of time increases your odds of being in the right place and the right time when your prospect's wants to work with you! Read about other benefits of repetition.