GoldMine Premium CRM is one of the few CRM applications which allows users to store "additional contact" information within a GoldMine Contact Record.  So while there is a always a "Primary Contact" in the "Primary View" (top half) of a GoldMine Record, there is also a Tab for other Contacts associated with the Primary Contact.

Both the Primary GoldMine Contact and all the additional contacts share the fields in the Record.  If you need to differentiate in the fields between the Primary and additional contacts you will need to simply create an entirely new Contact Record to do so.  All the related Primary Contacts can be linked to one another via the "Relationships Tree" feature of GoldMine.  And, GoldMine will display those linked relationships in the "Relationships" tab.
An Additional Contact within a GoldMine Record can have it's own unique:  Title, address, phone and mobile, email address and notes.  GoldMine also gives you many options for working with Additional Contacts.  The local menu in the "Contacts Tab" offers the following functions: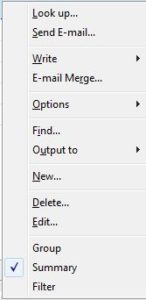 Look up
Send email
Merge email or letter template
Swap additional contact with the primary contact
Create a new primary contact from an additional contact
Schedule & Complete activities
Additional Contacts can be "coded" in order to select contacts with a query or create a list for emailing
GoldMine provides a email "Merge Code" that is used to categorize Additional Contacts.  This features allows marketers to identity and select the Contacts in a Record for a marketing campaign.  Read more about the use of Merge Codes.  First Direct Corp offers an Email Marketing Application that is ideal for leveraging your Additional Contacts based on titles and Merge Codes.  Read More
SAVE TIME WITH ADDITIONAL CONTACTS:
One of the advantages of additional Contacts is the time it saves.  Since users can simply add a name, a phone and an email address, there is less time spent on starting an entirely separate Record in your GoldMine database.  Plus, when you're on a Primary Record it is easy to see information on all Contacts, including related History, Pending and emails, etc.
My firm uses Additional Contacts with GoldMine … 
Personally, I like GoldMine's Additional Contact's feature.  It is truly a unique advantage of GoldMine.  There is a lot of confusion among GoldMine users about the pros & cons of "Additional Contacts" versus the use of the "Relationships Tabs" and when to use one versus the other.  First Direct can help you to make logical and optimal decisions on how to use these features.  Call me if you'd like to discuss (845) 221-3800.