How much do you value your house file and all the information it possesses?  If it's high on your list of most valuable assets, then it's worth considering what you can do to preserve and enhance its value.
Marketing directors know all too well the problems they face when data is missing, inaccurate, or not up-to-date.  Dirty data will undermine marketing's ability to conduct essential functions including:
Segmenting the database for targeted campaigns
Improving the effectiveness of marketing campaigns
Doing analysis and reporting
Maximizing the deliver-ability of communications
Reducing postal and print costs
Integrating with other applications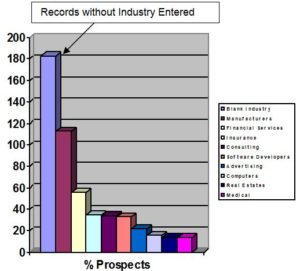 Figure 1:  Records without an industry classification would be overlooked by communications targeted by industry.
Direct marketing has an expression, "When you need the list, it's too late!" Meaning, when it comes time to blast out an announcement, or to run an analysis for a manager who needs information for a meeting, you don't have the time to update the data.  It is what it is.  Therefore, if data is not maintained diligently at each and every prior opportunity, when the time comes to rely on your data, it will provide less benefit.  Depending on how poorly it has been maintained, it may even be useless, or even worse yet, damaging.  For example, a B2B firm that uses heavy broadcast faxing but fails to suppress records when they are asked to remove a contact from a list, may subject themselves to fines.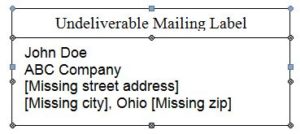 Figure  2:  An deliverable mailing address is wasted print and postage and will not reach your target. 
Marketing and sales need to work hand-in-hand.  Marketing has responsibilities that support sales efforts such as positioning, building brand awareness, creating leads and providing collateral materials for use in the sales process.  By the same token, the sales staff has responsibilities that marketing relies on including updating and enhancing the house file with current and additional information.  In successful companies, there is a synergy between marketing and sales, with the database being one of the main areas where contributions are exchanged.   In order for this synergy to be realized, the key is to have a mutual understanding and cooperation regarding the "care and feeding" of the house file!
There are a variety of causes for poor data quality.  For one, customer and prospect data is not static, the information becomes out-of-date very quickly.  Lack of discipline and attention to detail by those responsible for entering data really plays into the problem as well.  Every incremental interaction with the database is a defining moment that has a large cumulative effect.
There are three main strategic means for dealing with "dirty data" – 1) Workforce, 2) Technology, and 3) Outsourcing.   Below are some tactical examples for each:
1. Workforce:
Develop clear and specific policies and procedures pertaining to the entry and maintenance of your data.
Train and reward users based on best practices.
Create and review reports and analyses to measure the quality of your data.
Assign individuals with the responsibility for evaluating the quality of your data and the authority to reinforce best practices.
2. Technology Strategies:
Auto fill fields based on expressions (e.g. fill in sales rep/territory based on state, etc.).
Set field properties to control field entries (e.g. accept only validated responses, change case, not allow blank entries, etc.)
Globally update groups of records based on logical conditions.
Merge/purge duplicates.
Use automated processes to schedule data collection calls to in-house telemarketers when key fields of information for marketing purposes are missing (e.g. missing emails, fax numbers, qualifying fields, etc.).
Capture and correct "undeliverable emails"
3. Outsourcing Strategies:
Append data that will enhance the value and usefulness of your files
Keep up with area code changes
Use telemarketing to collect or update information.
Standardize addresses according to USPS regulations
In selecting your database or CRM system, evaluate whether it provides you with features that will aid in the process of building and maintaining the integrity of your data.  Also, don't overlook "add-on" solutions that perform various specialized functions, which may not be native to your core system, and can often times be integrated with your core system.
Cleaning a "dirty database" and keeping it clean requires time and money.  However, the two biggest factors in your success are 1) the level of understanding about the importance of the database to your company and 2) the commitment of everyone involved with the process of maintaining it.
Look at it this way, dirty data is an "enemy" that is plaguing your business as well as your competitors.  Therefore, overcoming this problem is one competitive opportunity YOU have direct control over!
Would you like help cleaning and maintaining your CRM data?  Contact First Direct Corp. at 845-221-3800.
Click here to go to a white paper I've prepared:  The Twenty Biggest Marketing Mistakes. (I wrote it almost 15 years, but the principles are immutable.)