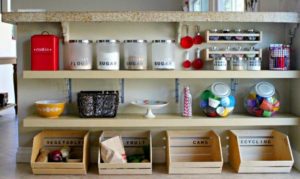 Think about the tremendous organization that exists in most people's home kitchen. Everyone in the house knows where the silverware, plates, glasses, napkins go.  Open the fridge and you know where to find the ketchup and the butter.  Need a plastic container or aluminum foil, you know where to look.  Emptying the dishwasher is speed test for "filing away" all the clean items in their proper places.
This level of organization is a far cry better than what I observe daily with most business's CRM data.  Is it any wonder businesses don't get the results they'd like from their "CRM system?"
Reporting, marketing, teamwork, management, customer service and more depend on the reliable and consistent storage, sharing, and access to information which belongs in a well managed CRM database.  All users need to be aligned on usage of their system in order for effective delegation, such as lead distribution and follow-up to take place.
The New Year is a good time to make resolutions and renewed attempts at doing better in life and work.  I encourage organizations that use CRM to take a serious look at how they are using their software and how well they've mapped their processes into their system.
I sell "software" – but it is up to the organization to transform that software into a "system" which helps their organization to better serve their customers and to gain a competitive advantage.
Make sense — Want to get started?  At the beginning of each year I run a special webinar intended for you!  In January I am holding a webinar  7 Things You Can Do To Start The Year Off Right with your CRM.    Register today and turn over a new leaf in 2017!