I don't believe the full value of GoldMine Software can be realized if you're not taking advantage of its ability to delegate (schedule) activities for other users in your office.  The "work group" functionality of GoldMine is one of its great advantages for an office/organization that works as a team.
When scheduling activities (calls, appointments, actions, etc.) for another user on your GoldMine system there are some "actions" that you can select to enhance the activity you are scheduling such that the system will automatically let you, the scheduler, know when the person (user) for whom you scheduled the activity for actually completes it, or for that matter deletes it.   Notice the "check box" for RSPV in the lower right graphic.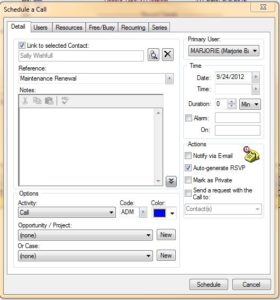 In addition to advising you when the activity has been addressed, as the scheduler you can view a list of all activities which you've delegated that are not yet resolved in GoldMine.  You will find this list in your "Activity List" under the "Open" folder in the section labeled simply "RSVP."   Like the other sections, the RSVP section also respects the date range you've selected from the "Show" pull down menu.

Using GoldMine's Activity list this way you can easily identify the tasks you've given to others that are past due or outstanding altogether.
When the scheduled for user completes the item you've scheduled for them you will automatically receive an email in GoldMine to advise you the date and time that the activity is completed.  (Of course, for this to work you must have your Email preferences set-up in GoldMine.)  And, because that email is linked to the GoldMine record it is very easy to check the record for further information.
GoldMine helps organizations work as a team and tracks what your whole team does in relation to your CRM contacts, thereby providing a listening post and a means for people to be better informed.  When you're better informed, via access to information, you can better market, sell, and service.  Something as simple as an RSVP feature can be a tremendous value for business people who want to stay in the know or possibly trigger their own next activity based on the completion of another person's activity.
First Direct offers a class called "Get It Done with GoldMine" in which we explain how to use this and other GoldMine features to better manage your time and be more productive.