In addition to performance improvements for email message merge and send, new features released in version 7.6 include:
Reporting Dashboard – "Real Time Campaign Analytics"
Get a "real time" snap shot of your tracked campaign results using the IntelliClick Dashboard. Drill down to those who are showing the greatest interest in your campaigns. Once you update, follow the instructions provided in the IntelliClick User Quick Reference Manual on page 59 or click here for instructions.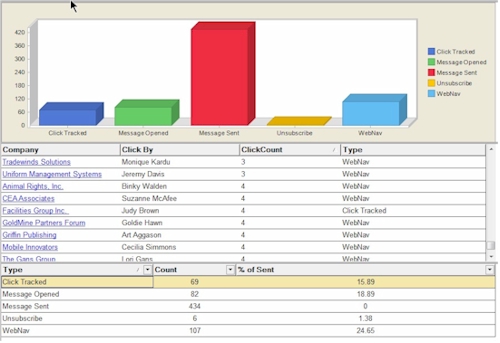 Resume Failed Or Suspended Campaign Send
If during a send you should have a loss of connectivity to the Internet or something interfers with the email merge and send process, IntelliSend will now prompt you to resume the last send if it fails. This will automatically exclude all those who already have had emails sent to them and will proceed to deliver the remainder of the target group.
Other improvements to IntelliSend include the ability to now send, track and manage email address integrity for multiple GoldMine databases. You can now also flag to update hard bounce and unsubscribe email addresses from external files such as those generated from an email service provider.
SQL Query Examples
You now have access to SQL queries than can be used in GoldMine to help yo segment your audience based upon past campaign responses. These queries can be accessed from the IntelliClick Wizard under HELP | SQL QUERY EXAMPLES or these can be found in the User Quick Reference Guide beginning on pg. 62. You can then copy and paste any of these queries into the GoldMine to access the results.
Data Integrity – Email Address Verfication & Email Append Services
IntelliClick offers new services to enhance our existing product features and make sure unsubscribes and hard bounce (undeliverable) email addresses are excluded from your email campaigns. In response to demand from our customers to help improve their email data integrity, we now offer email address verfication and append services. For questions or to arrange for a data file to be processed, please contact support.
Email Address Verification
To reduce hard bounce rates and increase the liklihood of good campaign delivery, you can now have your entire database of email addresses verified for deliverability. For as little as1¢ – 1.25¢ USD per email address, we will process a file of email addresses you provide in Excel or CSV format. Email addresses will be flagged if invalid or corrected where possible. The returned file can then be used to easily flag all undeliverable emails using the latest IntelliClick feature to flag GoldMine email addresses from the resulting file.
Email Address Append
The Email Address Append service helps to add email addresses to accounts where you have none. You simply provide an Excel or CSV file of contact information, including street address and this will be cross referenced against an email database of 400 million+ email addresses (B2C and B2B). Identified email addresses are contacted on your behalf to get permission to email to them and you only pay for email addresses that have not opted out. Cost ranges between 25¢ – 35¢ USD per appended email address.