For all the talk and attention that the Internet, Mobile, and Social Media are getting, one might think "Print" is dead.  Wrong.  In fact, the facts might surprise you.
Recently I came across an article on a blog of the firm, MindFire Inc.  They produce innovative automation software, called MindFire Studio for Printers and firms that handle/manage direct mail campaigns.  The article is titled "Not So Fast: Print Ain't Dead Yet."  (Personally, I'd have left off the adverb "yet" in the heading!)
Here are three interesting highlights that I took away from their post:
The Direct Marketing Association recently reported that direct mail's response rate surpasses that of all digital channels — by a long shot.  According to their research, direct mail achieves a 3.7% response rate with a house list, and a 1% response rate with a prospect list.
It gets even better:  Mobile, paid search, social media, email, and Internet display combined (yes, combined) only achieve a .62% response rate.  Put another way, print out-performs all digital channels combined by over 600%!
Check out which offline channel has the highest response – the telephone.  Making calls had the highest response rate at 9-10%.  So pick up that phone and start making calls.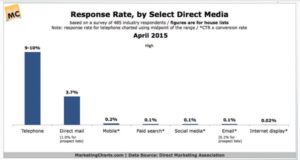 There are a number of other meaningful findings and recommendations in the article. So I recommend you check it out and build your business development strategies and tactics with the lessons in mind.  And as you do, keep your CRM in mind too!
Think about this — Where is all the data for your marketing lists stored so you can print your labels, personalize your letters and make your calls?  In your CRM!  And, how are you going to track your responses and distribute them to your sales team for future follow-up?  With your CRM, of course!
As I've long said, "Dirty Data in the Enemy of Marketing!"  The better you manage your CRM database, the greater your ability is to maintain, segment and use your marketing lists!  As one direct marketing legend used to say, "It's the list, stupid."
If you would like to improve the way you manage your data, and make better use of CRM software to market, sell and manage, talk with us!