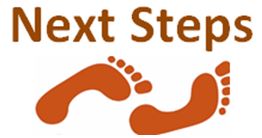 In sales, if you don't know your next step, you've already lost the sale.  The test of a good salesperson is how well they follow-up.  When it comes time to "take the order" the sale has been made.
Follow-up is one of the key differentiators of top-notch sales professionals.  In doing so, several factors come into play such as:
– Timing – keeping commitments, being persistent without becoming a nuisance, keeping on the radar screen, etc.  Follow-up too soon, you're lucky to get any traction.  Follow-up too late, and it may means that they've already made a buying decision.
– Relevance – having access to and using details about the prospect's needs, objections, along with details from prior communications, so that your follow-up is relevant.  Relevance demonstrates you are seeking to meet their needs and helps you to break through the cognitive barriers that prospects erect.
Central to the entire process is a system for tracking and documenting your efforts and building a list for future follow-up.  Doing your day in your CRM system becomes a matter of working your list.  Or, as I like say, setting it up, then knocking it down, and setting it back up again.    
A well-managed activity list in your CRM, supplies you the details you need to do your sales follow-up in an easily organized list format. It also should let you set priorities to help you manage your time.  When crunched for time, it is very helpful to be able to filter your activities in order to focus on those items of a greater importance or potential.  Features of a good system include:
Sort and filtering capabilities by dates, references, type or purpose of activity
Linking between activities and the relationship at large
An easy means to reference past efforts, including emails, notes, and other pertinent details
Alarm functions as well as the ability to rollover activities to future dates
Means to document completion
Means to delegate and/or share information with others in your organization
Productivity is so important.  So you should be able to process all these features fast and efficiently.  Volume is a big factor in performance, so your system should not slow you down, but rather help you to do more in a day than otherwise if you didn't have a system.
First Direct Corp. can help you use your CRM system to market, sell and service better. I'd love to show you how a CRM power-user manages activities!  Care to learn how? Schedule a free conversation with me, Bob Ritter, President of First Direct Corp. 845-221-3800 x 101.