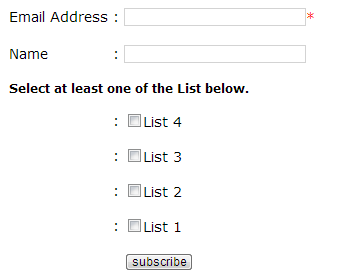 The new Subscription Management Module  for IntelliClick allows you to use a web form to capture the mailing preferences of your email campaign recipients and keep this information automatically updated in GoldMine. Now you can send customized emails to your campaign recipients based on the content that they prefer to receive, giving you better target marketing capabilities.
For instance, if you own a clothing store, you can now add a Mailing List sign-up form on your website that has options for the types of items that email recipients can choose to only receive emails about, ie. Mens clothes, mens shoes, womens clothes, womens shoes, kids clothes, etc. Your subscribers can simply choose what types of email/content they want to receive from you.

This exciting addition to the "Plus Package" for IntelliClick enhances the existing single click unsubscribe option. It offers your email recipients an alternative to encourage them to remain on your mailing list.
Features of the new module include:
A special web form that is dynamically customized with your company logo and up to six (6) mailing list choices

One click hyperlink, generated with the IntelliClick Wizard, sets up the web form with the mailing list options and corresponding GoldMine fields to update; The built-in web import capability of GoldMine is used to update the contact records

Prior mailing list selections can be updated by your email recipients at any time from links in any of your email campaigns For compliance with spam regulations, a "one click" unsubscribe alternative is also included with the form as an option

Tracking and reporting of those who subscribe is provided through reports and dashboards.

Request more information:
Error: Contact form not found.
If you have questions or would like to see a demonstration of IntelliClick please contact our office at: (845) 221-3800.