In case you didn't know, First Direct Corp. offers two CRM solutions. Obviously one of them is GoldMine. The other that you may not be aware of is Zoho CRM. Here is why we believe Zoho CRM is a better CRM for firms that are not already using GoldMine. Here is a video about why I say that:
Decades of GoldMine Excellence: Why First Direct Explores Zoho CRM for the Future
For nearly 30 years, First Direct has been selling GoldMine CRM and GoldMine continues to have many fans. Personally, I love using GoldMine. Nonetheless, First Direct has good reasons for choosing to sell Zoho. There are good reasons for customers to choose Zoho too. The greatest proof of Zoho's success is the milestones Zoho is achieving — they are a testament to customer satisfaction.
Zoho has garnered numerous awards and positive reviews. In 2022, Zoho was named a Winner with Distinction in the CRM Watchlist by ZDNet. Zoho received the highest overall score based on its low-code, no-code, and composable architectures, customer engagement, platforms and ecosystems, and being 'channeless'.
Zoho CRM also received PC Magazine's coveted "Editor's Choice Award," with a 4.5-Star Editors' Choice rank. PC Mag editors noted that Zoho CRM has nearly every feature one could want to keep up with customers. But it was the feedback from readers which put Zoho over the top.
Zoho emerged as the winner of Best Enterprise Software Vendor from Constellation Research, a Silicon Valley-based research and advisory firm. They named Zoho the best enterprise software provider because it provides 45+ business applications and digital scalability and helped companies improve their market share, customer satisfaction and brand standing.
How to get Started:
I posted this article on our Zoho blog to to help firms get started with Zoho CRM.
Contact me if you'd like a private demonstration of Zoho and to discuss the pros & cons of Zoho versus GoldMine. I can answer your questions and help you start a free trial.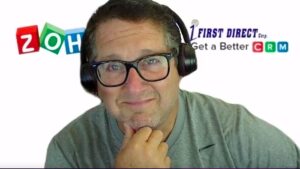 Bob Ritter, President
First Direct Corp.
(845) 221-3800 x 101.