Sales Is Not Marketing and Marketing Is Not Sales
I recently spent sometime working with a client training them on email marketing best practices. The person I was speaking with was the owner/president of a small business with a small number of employees. My first question to him was, "Who will be managing the email marketing efforts/campaigns?" and his response was "all of my sales reps will mange their own campaigns". This is something I hear quite often and it doesn't surprise me considering most small businesses don't usually have fully dedicated sales and marketing teams and instead the roles may merge and people wear more than one hat. First I will explain why I believe giving your sales rep(s) access/control over your email marketing efforts is a bad idea and then I'll explain what I believe are better options.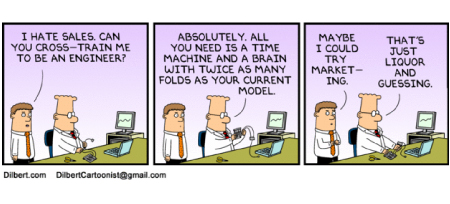 Marketing is a very complex process and requires a number of different skills and those skills are something a sales person does not typically have. Marketing is about using information, acting on data and understanding the information you can access. Marketing involves being creative. This means knowing how to use a graphic design program such as Photoshop. Marketing rules and guidelines are constantly changing and staying up to date and informed on current trends requires a significant amount of time and effort. Understanding all the key elements of what it takes to get an email into the inbox vs caught by a SPAM filter is like performing a juggling act. Keeping your Brand and messaging consistent is best done by allowing a single person to over see all your email marketing efforts. Email marketing systems today can be configured to send emails and make them look like they are coming from an assigned sales rep, even though the person doing the email design and sending is a totally separate person. Marketing usually involves also being able to setup web forms on your website to capture campaign responses and get your recipients to interact with you. Knowing how to setup web forms and integrate them with your marketing and/or CRM system are fairly technical and again that is not something a sales person will be able to do, nor do you want them to. Sales people should focus on selling and following up with leads via phone and one off email communications. Giving control of your marketing efforts to your sales reps is like giving the keys to a Ferrari to a teenager.
So what should a small business do? My suggestion is to either hire someone who will oversee all your email marketing efforts. That person should be skilled and knowledgeable in email design and if possible web site design as web site design and email design involve many of the same skills (Graphic Design, HTML and CSS). If you are not able to hire someone with those skills you could outsource your email design and marketing efforts to a marketing company to assist you with your email marketing efforts. You could of course train one of your sales people to become an email design and marketing expert, but most sales people are not interested in all the technical aspects involved with email marketing.
First Direct Corp. can certainly assist you with your email design needs and we've helped design email campaigns for many of our clients already. If you are in need of email design assistance or email marketing training and guidance please contact First Direct Corp. so we can discuss your needs and develop a plan that works for you.
---
PRODUCT SPOT LIGHT:

IntelliClick is different from all other types  of e-mail marketing systems. IntelliClick is a GoldMine add-on that allows personalized email campaigns to be sent and tracked directly within your GoldMine. Each GoldMine contact record is updated based on the actions your email recipients take and you can instantly alert/notify your internal GoldMine users/sales reps when those actions occur.