When you need to collect information, learn people's preferences or gather feedback, there's nothing better than a form. Sure, forms can be boring, but that depends on what tool you choose and how you use it. You can make a form interesting, simple to fill out, and then, with the help of Zapier, automatically put the results to work for your team by integrating your online forms with over 500+ other applications.
But what form builder is the best for you? A broad sweep of a dozen-plus popular tools today shows that just about all form editors are the same. They give you a blank form in the center of your screen and a list form elements on the side. Their price tags and features, such as uploading attachments or creating reports, are what differ most.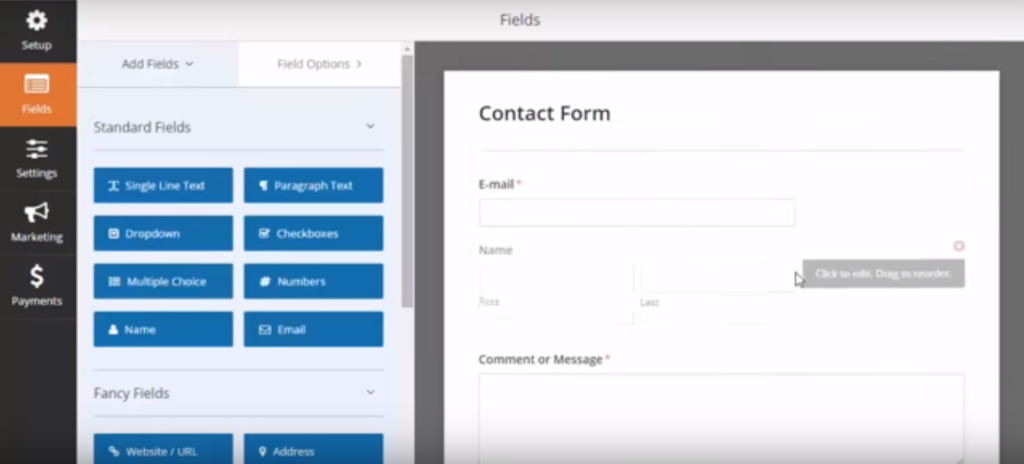 The Form Builders You Should Try
There are more form apps than we could ever cover in one chapter or article, so we've picked the ones possessing features that stuck out to us. Each of these are either a form app or a survey app: the latter are great for surveys, while the former let you make any type of form, from a survey to a simple contact form to an advanced order form or training quiz. They have the basics you'd need to make any type of form you want, with enough unique features in each app to make you want to try out several.
Typeform
Typeform helps you ask awesomely online! If you ever need to run a survey, questionnaire, form, contest etc… Typeform will help you achieve it beautifully across all devices, every time, using its next generation platform.
Wufoo
Wufoo is an easy way to create and manage HTML forms.
Gravity Forms
Gravity Forms is a premier WordPress plugin that makes it easy to create powerful forms on the fly.
JotForm
JotForm is the first web based WYSIWYG form builder. Its intuitive drag and drop user interface makes form building a breeze. Using JotForm, you can create forms, integrate them to your site and receive responses by email.
Formstack
Formstack is one of the easiest ways to build custom forms that let you collect data your way.
Google Forms
Google Forms is an easy way to collect data from the web with a simple UI and powerful editor. Works hand-in-hand with Google Sheets!
Cognito Forms
Cognito Forms is an easy-to-use form builder that allows users to quickly build a form, include it on their website, and start capturing entries without having to do any development.
Formidable
Formidable is a WordPress plugin that helps you create beautiful drag and drop forms with custom styling. You and your visitors can submit and edit entries and posts from the front-end of your site. When you have data, display it with graphs and custom views.
123ContactForm
123ContactForm is an easy way to create and use free html forms for your website using their online contact form generator!
Ninja Forms
Ninja Forms is the easiest and most flexible WordPress Form builder.
iFormBuilder
iFormBuilder is a universal, cloud based mobile data collection ("forms") platform with an emphasis on security on mobile devices, and collecting data with or without an Internet connection.
Formsite
FormSite enables non-technical users to build professional quality web forms and surveys with no HTML or coding experience.
FormKeep
Form endpoints for designers and developers. No iframes, JavaScript embeds, or CSS overrides.
GoFormz
GoFormz gives you a complete mobile forms solution that lets you capture data electronically with mobile forms that look exactly like your current paper forms.
Canvas
Canvas provides a simple, drag and drop tool for creating your own mobile forms (called Canvas Apps) that can be filled out by your employees on their mobile devices. Customize your own mobile inspections, work orders, time cards, invoices, waivers and much more. Instantly transmit your data to customers and colleagues to keep your business moving at the speed of digital.
Fulcrum
Fulcrum is a mobile data collection tool that allows users to easily design custom forms and quickly conduct field data collection on Android and iOS. Fulcrum works in connected and disconnected environments.
ContactUs.com
ContactUs.com increases the amount of website visitors that become contacts by using behavioral triggers, helps you start the conversation with those visitors with a basic CRM, tells you where your leads come from and what they do in your website.
GetSiteControl
GetSiteControl is an easy-to-use set of engagement tools for your website. Online surveys, live chats, contact forms, opt-in forms, promo messages, follow and share social media tools – all managed from a single dashboard.
PlanSo Forms for WordPress
PlanSo Forms is a form management and creation tool. It can be used directly or via wordpress plugin.
FormForAll
With FormForAll's online form builder, create your web forms in seconds, publish it online, collect the data. You can create contact forms, registrations, surveys and more. We provide multilingual display, responsive design, double opt-in and easy form-filling with Facebook and Google+.
Device Magic
Build custom forms to capture important data through your mobile device.Save time, get better data and automate your business.
Formdesk
Online form builder where powerful flexible features create endless possibilities.
ThunderMaps
ThunderMaps is location-aware mobile form software for web and mobile devices. We help businesses easily collect and distribute location-based information in real time and alert people when important information is submitted
Formitize
Formitize is an all around customizable solution for moving from paper based forms to electronic based solutions. The wide variety of uses include from dispatching jobs, to house inspections, sales and even call-quality assurance.
LeadBoxer
Generate B2B sales leads from your online data.We analyse your online data in realtime and show you the businesses who visited your site. Score, rank, filter your leads and contact them.
WisePops
WisePops is a web application that helps you design smart pop-ups for your website, and increase sign ups and conversions. It is very easy to use, and works with all websites.
Magpi
Magpi is a full-featured and easy to use mobile data collection and messaging system, allowing online or offline data collection from any mobile device. Collect data using iOS, Android, or Symbian apps, or using SMS from any device.
FormTitan
FormTitan is an online form builder that allows you to easily create powerful forms without a single line of code. Improve your conversions with our innovative CRO engine, integration with many services, custom logic, ui logic and much more!
WPForms
WPForms is a drag and drop online form builder for WordPress that allows you to easily create contact forms, email subscription forms, billing forms, donation forms, online order forms, and more.
Nexticy
Nexticy is the most innovative form builder that helps you create paper-like forms and documents. With Nexticy you can make your work paperless and become more productive with just an iPad.
If you'd like to learn more about a specific Form Builder App or how to integrate one of these with your Website and your GoldMine CRM system please contact First Direct Corp. at (800) 935-4386 or fill-out the online form below to request more information.