GoldMine Web Import
Do you own a web-site, an e-store/shopping cart, or any of over 500+ other web based applications?
If the answer is "yes," then this article is for you!
With GoldMine's Web Import functionality every time someone fills out an online web form on your web site, submits an online order (purchases a product) or does something in any of a number of web based applications, the contact information that is submitted can be automatically imported into your GoldMine CRM system to create a new contact record or update an existing contact record.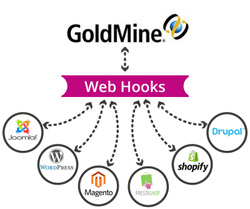 Think about the advantages:
■ No more retyping (or data entry mistakes)
■ Immediate capture of leads
■ Instant distribution of leads
■ The ability to automate responses and delegate tasks using Goldmine Automated Processes
What is GoldMine Web Import?
GoldMine Web Import is a feature available with GoldMine out of the box. Potential customers visiting your site fill out your web form and click "submit" just like they do now. The difference being, when the web form is submitted the data is formatted into a GoldMine Web Import email which is automatically recieved in your GoldMine email center. Once the email is received, GoldMine recognizes the email as a web import email and automatically imports the data into your database, creating a new contact or updating an existing one.
Why Do You Need It?
Besides the obvious reason of saving data entry time and data entry errors. Once the information is imported into GoldMine you can attach GoldMine Automated Processes. Automated Processes can then be set to send auto-response emails, print letters / envelopes, schedule calls and other follow-up activities, plus much more. Leads are followed up in a timely manner, while its still "hot" not days or weeks later after its gone "cold". Web import isn't just for "leads" – it can be used for registrations, literature requests, and other processes.
GoldMine Web Import can:
Create New Contact Records
Populate or update Custom fields
Add information to the Notes tab
Create Details (email, website, custom details)
Attach Automated Process (On New or On Existing)

Schedule Call, Appointment, Next Action, etc.
Print Letters/Envelopes
Send Emails
Create History Entry
Plus much more
If you're interested in GoldMine Web Import and have questions please contact First Direct Corp (845) 221-3800. We've assisted numerous customers with integrating their web sites, e-stores/shopping carts and other applications with GoldMine via the GoldMine Web Import feature.
REQUEST MORE INFORMATION: