GoldMine Web is a new browser-based app that's included with GoldMine Premium Edition and installed as part of the GoldMine Connect package. GoldMine Web provides the look and feel of a web client and doesn't require installation for the end user on their workstation.
GoldMine Web offers real-time access via any current Internet browser to your GoldMine database without any desktop setup. GoldMine Web features include:
Complete detailed contact record views including notes and details
Stay organized by scheduling calls, appointments, actions and more
All pending and historical activities for yourself as well as those scheduled for another user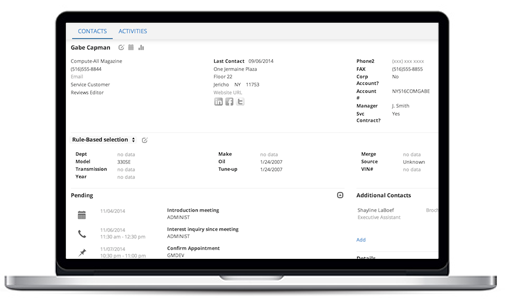 What will it cost?
GoldMine Web is included with any GoldMine Premium Edition licenses – new or upgrades. The Web Client will require a new GoldMine Premium Edition License. Plan to attend this webinar to get a complete overview on all you can do with GoldMine Web.
Release Date
GoldMine Web will be available beginning Tuesday, December 9, 2014. Should you have any questions, please call 845 221 3800.
Webinar Date and Time:
Tuesday, December 16, 2014
2:00 pm – 2:45 pm EST.
Register now to secure your virtual spot.