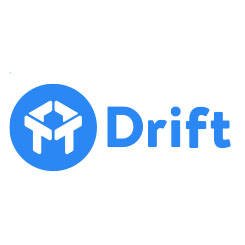 First Direct Corp. recently implemented a new website chat app on our wordpress websites, called DRIFT. We are using the FREE version of DRIFT and have been really impressed with the results we've received in the last month.
Drift makes it easy for you to talk to people while they're live on your website so you can answer their questions in real-time, convert more leads, and start closing more deals. And with Driftbot (chatbot), you can always help get the right message to the right person and take some of the load off of your team.
Drift can connect to all of the tools that you already use — from Mailchimp to Segment to Zapier to Slack — so when you signup for Drift, your team doesn't have learn an entirely new way of doing things, it just makes the things you already do better and easier.
So far we've integrated our DRIFT account with our SLACK application, so all website chats are answered & responded to through our internal SLACK communications tool. We've also been able to connect our Drift account to our WordPress Knowledgebase, so now when someone chats on our websites, Driftbot will instantly be able to give customers the help they need by providing links to articles in our WordPress Knowledgebase, which allows us to save our brain power for the bigger questions people will ask.