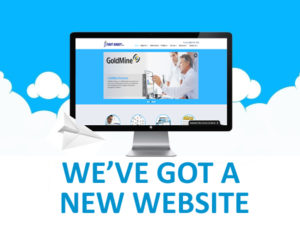 Here at First Direct Corp. we're very excited to announce the launch of our newly designed website which went live yesterday and is located at the same web address www.1stdirect.com. The site's homepage features a clean and uncluttered design with an image banner slider at the top that features information about our services and the solutions we offer.  A few of our goals with the new website were to make it faster, easier to navigate and more user friendly.
As one of the top GoldMine Solutions Partner, it was important for us to make information regarding our solutions, services and trends as easily accessible as possible for our current and prospective clients. We make it a point to provide our clients with the most accurate, up-to-date information and share our knowledge and expertise in the CRM field of technology. Our new site features an entire section dedicated to recordings of GoldMine training videos, and a calendar of upcoming seminars and webinars hosted by First Direct Corp. where we offer training more insight on GoldMine features, new technologies and CRM trends.
We also wanted to give our clients an opportunity to know us better; who we are as a company and the leaders driving the First Direct Corp. team. By browsing through our Resources  and About Us sections, you'll get a pretty good idea of who we are, what we do as a company and what others are saying about us.
You'll find our new site is divided into five main sections: About Us, Online Events, Products, Services, and Resources. We shifted to a client-centric layout so our clients could easily navigate our site and locate the information they are seeking. The Products and Services  sections provides detailed descriptions about the solutions and services First Direct Corp. proudly offers. Our Online Events page displays a monthly calendar view of all our upcoming training classes and product webinars and an easy way to register online. The Resources section is full of great information for current and prospective GoldMine customers to learn about GoldMine.
Our First Direct Corp. team has worked collaboratively to put together a new website rich in information to be used as a resource just for you. We pride ourselves on being a leader in the GoldMine/CRM technology field and look forward to hearing any feedback from you.
If you experience any problems using the new website or if you have any questions, please contact us or call us at (800) 935-4386